Why Early Intervention is Vital
The human brain experiences 75% of its growth in early childhood and children develop motor, social and cognitive skills before they turn five. Swift diagnosis when a child does not achieve developmental milestones (ability to roll over, sit, walk, or talk), can significantly improve the child's developmental trajectory. Unfortunately in India, the time lag between identification and intervention is almost two years – thus children with MDVI lose years of early development, which are foundational to success in school and life.
Three key challenges stand in the way of Early Intervention:
Lack of parental awareness
Over 80% of children with disabilities are born in low income families, who lack the knowledge of developmental milestones.
Absence of mandatory screening
Lack of screening of infants for developmental disabilities in India's healthcare system.
Inadequate Training of Medical Professionals
Many medical professionals aren't trained to diagnose developmental difficulties and lack the expertise to appropriately screen new-borns for visual impairment and other disabilities.
Our Approach to Early Intervention
Children with MDVI are referred to Muskan from hospitals and other organisations, and the Muskan team follows a structured process for diagnosis, assessment and consultation.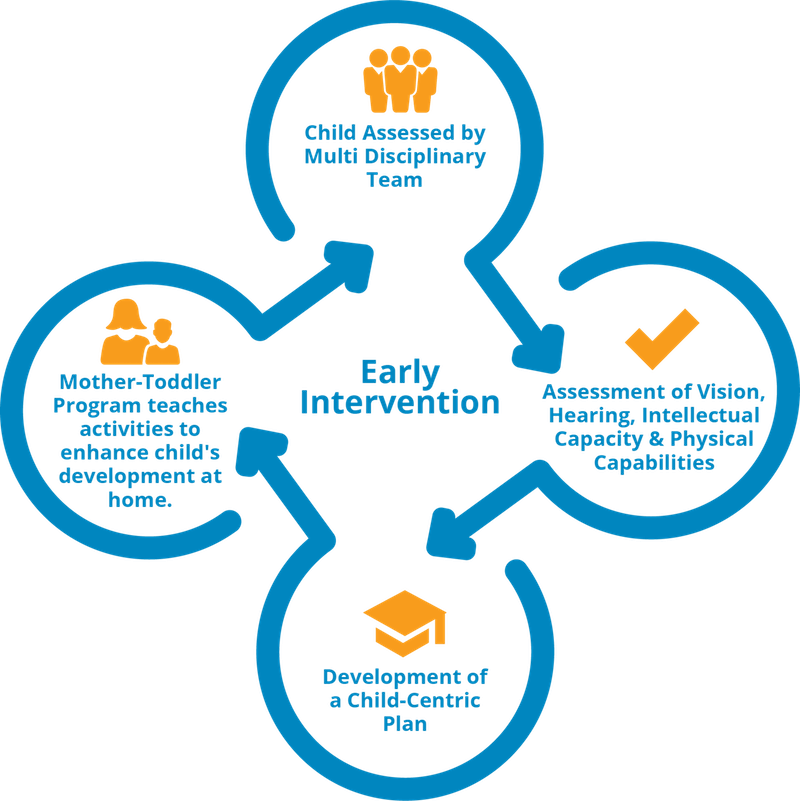 Mother- Toddler Program
Raj suffered from a brain injury which caused him to become deafblind. When his mother brought Raj to Muskan, she was very worried as Raj was six months old, yet not able to bond or respond to her.
Read More
Early Intervention
Rachel (name changed), is a child with autism and completely blind, came to Muskan for admission when she was hardly two years old.
Read More